MOBILE SOLUTIONS FOR A CONNECTED WORLD
SOLUTIONS
We look at your operational structure and help you make a more informed choice.
We don't just say we're committed to providing industry-leading customer service. We do it. That's why you'll have a dedicated Business Solutions account manager, whether you're connecting 100 mobile phones or are running your own businesses as a sole trader.
PROACTIVE NOT JUST REACTIVE
Of course, our account managers also work proactively, learning about your industry and any specific mobile telecommunications needs you may have. They'll let you know when relevant new products and services are available and they'll help you achieve cost-efficiencies as your business develops and changes.
TRANFERRING PHONES & SERVICES
Less of a problem than you may think. Want to keep your old numbers? We'll make it easy. In fact, we'll do all the work for you. Our back-office team will deal with the hassle of 'porting over', leaving you free to concentrate on running your business.
Things are moving fast in everyone's world. The telecommunications and IT industries are no exception (in fact they're leading the way!). We know how important it is to stay up-to-date and abreast of all the new technology options flooding the market. A key component to the IT Mobility solution is keeping you in touch with new solutions that will benefit your business. Ask us how!
ABOUT
IT Mobility has grown to be BC's leading independent mobile telecommunications supplier
Started in Vancouver in 2008, IT Mobility has grown to be BC's leading independent mobile telecommunications supplier. It's easy to see why. A hands-on approach to solving the multiple telecommunication needs of business has been the singular focus. And remains so.
And as business people ourselves, we understand precisely why you need to have a partner at your side that you can count on.We don't supply cookie-cutter answers. We pay close attention to your needs and tailor solutions to fit. IT Mobility can connect you  and keep you connected, without the uncertainty that comes with 3rd party suppliers.
YOUR PARTNER
Representing Canada's best mobile network.
Guy Almog is a 14 year veteran of the Wireless Industry in Canada. When he first entered the business in 1996, Canada only had 2 major players and a limited selection of analog phones that were giant by today's standards. Things have changed dramatically and so has Canada's view of the wireless industry. Guy has gained a significant amount of technical expertise and an in-depth understanding of the Wireless and IT landscape overall, allowing him to cater a specific solution to each and every customer need. In the past 10 years, Guy has been working tirelessly with many small and medium businesses in order to grow and evolve at the dizzying pace the wireless industry has been progressing.
He brings innovative ideas and a can-do attitude that is always central to every client interaction. Guy is taking his extensive experience a step further with IT Mobility. He is now a total solution provider and advisor, from Wireless representing Canada's best mobile network to IT Consulting and Customized Solutions. Guy is in a unique position to empower your business with today's best digital tools.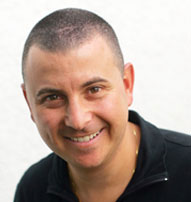 IT Mobility has continued to provide valued customer service following the transfer of the account. This has included product upgrades, providing advice on technology options and support for international travel, and addressing the changing needs of our company. Context will continue to rely on IT Mobility to provide quality service to meet our future communication needs.
John Forsdick
During the dating stage Guy was fabulous.. he wowed us overall but that is to be expected. We signed and I dreaded the process of converting not expecting to see him as much or getting such instant response to my e-mails. But Guy did not disappoint. He was there for us and made the process remarkably smooth. Guy did what he said he would do and more.Try Guy and I promise it will not hurt a bit.
Tara Hallgren
We have had the pleasure of working with Guy for our cellular needs for a number of years. Guy has always gone out of his way to provide the information and equipment requested while making sure we understand the pricing options available AND making sure our costs are minimized. The combination of Guy and Bell is truly outstanding!
Sue Deans